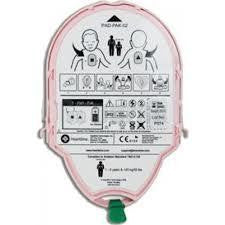 AED HeartSine samaritan Pediatric Pad-Pak for PAD 350P & 450P
Regular price $214.00 Sale
Each Pad-Pak/Pediatric-Pak has an industry-first four-year life, and provides 60 shocks or six hours of continuous monitoring. When battery power is down to ten shocks or less, the HeartSine samaritan PAD emits an audible beep.
Two parts, one expiration date. Pad-Pak/Pediatric-Pak cartridge combines battery and electrode pads, with one expiration date to monitor.
Low cost of ownership. With a shelf life of four years from date of manufacture, the Pad-Pak/Pediatric-Pak offers significant savings over other defibrillators that require separate battery and pads.
Protects both adults and children. The built-in intelligence of the HeartSine PAD combined with the unique Pediatric Pad-Pak, which is available for children up to eight years of age weighing less than 25 kg or 55 lbs, ensure the appropriate energy level is delivered for children.